The Elbe Valley from June to August
The summer months are the season in which the plant world loudly calls for one's attention. The blossoms of the sea pinks (Armeria maritima), maiden pinks (Dianthus deltoides) and Carthusian pinks (Dianthus carthusianorum) contrast well with the yellows of various sedum species on the dry, sandy grasslands. Attracted by millions of blooming flowers, many species of butterfly find a suitable habitat here as well.
Some of the 'Bracks' – seepage water ponds beside the dykes – flaunt the yellow blooms of the fringed water-lily (Nymphoides peltata). White water-lilies (Nymphaea alba) and yellow pond lilies (Nuphar lutea) are to be found as well. This is also the time when large numbers of dragonflies (Odonata) emerge from their larval skin and set out to hunt for other insects, both around the ponds and much further away as well.
The meadows are now more and more alive with the chirping of the grasshoppers. These include some rare species which are adapted to living in very dry conditions such as the blue-winged grasshopper (Oedipoda caerulescens) and the grey bush-cricket (Platycleis albopunctata). The wart-biter (Decticus verrucivorus) is at home in transitional habitats between dry and less dry conditions. The digestive juices of these imposing grasshoppers are reputed to cause warts to disappear.
In August, the young white storks (Ciconia ciconia) are fledged. At harvest time, as many as 50 storks may be counted following the machines, hoping for easy prey. Another rich source of food for them, but also for the black storks (Ciconia nigra), are the bodies of water between the river and the dykes as they dry out more and more. At the end of the month they then set off on their long journey to Africa again.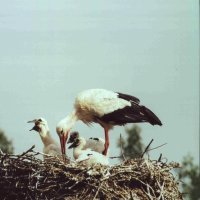 Bildrechte

:

D. Damschen
In August, the young white storks are fledged.