Business and Service
In addition to the productive sectors of agriculture, forestry and fisheries, the provision of a range of different services plays a significant role for the economy of the biosphere reserve region.
An association of medium range businesses has been formed with the aim of establishing the economic potential for sustainable development in the region and helping local businesses to avail themselves of it. This includes the exploitation of innovative markets, in which tourism and opportunities for recreation and leisure pursuits for neighbouring city dwellers constitute important factors for sustainable economic activity in the biosphere reserve.
A wide range of people and institutions from the business, tourism, agricultural and municipal sectors are taking part in the regional development process. It is receiving support from various development programmes such as the EU 'Leader +' initiative for rural development and the common development fund provided by the States of Lower Saxony and Hamburg for the metropolitan region of Hamburg.
The main aim of the economic development process in the biosphere reserve is the preservation and promotion of its character as a near-natural landscape with low environmental impact. This will bring about a basic ecological transformation within the region which will affect areas such as energy supply and consumption, environmental technology, recycling, environmental protection and environmentally friendly business practice. A good example of such a trend is the move towards using regenerative sources of energy.
Since 2002, the area covering the Elbe valley and the Wendland has developed into a first-rank bio-energy region within the Federal Republic of Germany. Public funding through the national 'Regionen Aktiv' programme for sustainable development has helped to promote innovative projects to create supply chains and been accompanied by comprehensive media coverage. The foundation of an energy management agency and an academy for regenerative energy will further the region's reputation in this future-oriented sector still more.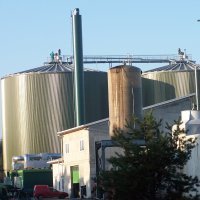 Bildrechte

:

B. Königstedt